Oscar Lathlin was born on May 20, 1947 at Opaskwayak Cree Nation, Manitoba, to Arthur and Lillian Lathlin. He was the eldest of his siblings: Muriel (Stan) Turner, Matilda Lathlin, Archie (Rose)Lathlin, Riley (Lori) Lathlin, Sam (Pauline) Lathlin, Don (Olive)Lathlin, Stella Lathlin, and Dennis (Amanda) Lathlin. Oscar was a member of the Church of the Redeemer in Big Eddy, where he was baptized. When he was younger, he was also a member of the Anglican Young People Association
(AYPA).
When Oscar was still a young boy, his father died, and he had to take over as head of the family. His mother hid him from government and church officials who came to round up children to take them away to residential schools.
Oscar received his education at The Pas Indian Day School, Frontier Collegiate at Cranberry Portage where he graduated from high school and then went on to Brandon University.
Oscar worked for OCN as the Band Manager and for SCTC as the Executive Director, the provincial (Manitoba Newstart, Autopac Adjuster) and federal governments (Canada Man-power, Department of Indian Affairs as Associate Regional Director-General), which took him to northern Canada (Yellowknife) and to Winnipeg. Oscar also worked at many other positions throughout western Canada and OCN/The Pas during his life time.
Oscar chose politics later in his life, and in 1985 he was elected Chief of Opaskwayak Cree Nation following in the steps of his cousin, the late Chief Gordon Lathlin. For the next five years as Chief, he served the Swampy Cree Tribal Council working on regional, provincial and national issues.
Oscar worked on many important issues locally, regionally, provincially and nationally. During his time as OCN Chief, he provided leadership in signing one of the first gaming agreement with the Province, started the Land Management Protocol for First Nations, and expanded the infrastructure on OCN.
Oscar was instrumental in the devolution of Child and Family Services for Manitoba First Nations, and was foremost among First Nations in taking responsibility for programs and services for its people. Oscar had confidence in First Nations people administering their own programs.
Oscar was elected MLA for The Pas in 1990 and served first as Minister of Conservation and later as Aboriginal and Northern Affairs Minister. Oscar was known as a champion of the North and of First Nations.
"Oscar was a very humble, but a very important, Manitoban," Attorney General David Chomiak said after Lathlin's death on November 2, 2008. "In Cabinet, Oscar didn't talk that often, but when he did, everyone listened."
At Oscar's funeral, former Manitoba Premier Gary Doer continued with a hunting story that revealed Oscar's great sense of humour. Doer praised Oscar's ability to work within the political system to get things done, without fanfare. "Oscar was more interested in his Healthy Baby Program, or his cadets in Cross Lake, or his establishment and expansion of the University College of the North… of making sure that Aboriginal children had a fair and equal opportunity at education."
Oscar suffered with asthma since childhood, and kept this and other related illnesses from the public. He made the six-hour trip between The Pas and the legislature in Winnipeg most weekends, so he could spend time with his family and to keep in touch with his constituents.
"Oscar worked tirelessly for the north," said Steve Ashton, "as Chief and as an MLA, he built bridges. Not just literally, like at Cross Lake, but between people and communities. Just the night before he died, we had a four-hour session, discussing his northern development strategy."
One of Oscar's proudest moments was when in the last provincial election, he led every poll in The Pas Constituency, both aboriginal and non-aboriginal.
Scanning dozens of photos, most are small photos of Oscar with groups of people at openings or celebrations, or group shots of the caucus on the steps of the legislature, but none show Oscar in grandiose display of personal glory or victory….the pictures show how Oscar lived his life, as one of the people, as one for his people.
Oscar was extremely proud of his daughter, Amanda, who graduated from the University of Manitoba with her Bachelor of Arts Degree. He spoke frequently and proudly of her continuing career development. Oscar also continuously provided support and encouragement to his sons Oscar Jr., Curtis and Douglas.
Oscar contributed to his stepsons' pursuit and subsequent completion of their education endeavours. Again he did this by continuously providing support and encouragement. Vince Sinclair, Bachelor of Arts & Bachelor of Law, Rick Sinclair, RCMP - Regina, Saskatchewan and Bradley Sinclair, Bachelor of Commerce (Honours). His wife Leona often states it was Oscar's support and encouragement that assisted in her achieving and completing her Bachelor of Nursing.
Oscar was born on the trap line and later walked the halls of Provincial power. This is the Dream that Oscar had for all aboriginal people and in particular for the students of Opaskwayak Cree Nation – Joe A. Ross School. Oscar's spirit and legacy will live on and continue within the halls of Oscar Lathlin Collegiate.
---
Oscar lathlin collegiate
The Eagle represents love, hope, strength, knowledge and wisdom. It also represents great power and balance, dignity with grace, a connection with higher truths, intuition and a creative spirit grace achieved through knowledge and hard work. The braid represents a bonding between the Students, Teachers and Administration. The Cree flower represents our Culture, our Art and is a reminder of home and loved ones. (Logo Created by Karalee Constant, Grace 12 Student of Oscar Lathlin Collegiate.)

The Wolverines Logo represents the tenacity and determination that Oscar Lathlin displayed. (The logo to be used for Athletics was created by students Kaelei Knutson, Jonathon Asmus-Personius & teacher Danielle Daniels.)

The fir tree was designed to create a line between inside and outside, helping to make the building blend with its surroundings. The tree was found at Tatla Lake Mill, British Columbia and it measures a little over 22 feet tall with a diameter of 2 feet at its base. The tree was shipped from Winnipeg to Opaskwayak Cree Nation by flat bed truck. It supports the roof of the library and is the most visible object when entering the Oscar Lathlin Collegiate. It is surrounded by lights at its base, and it was kept as natural as possible. Please respect the tree, so everyone can enjoy the beauty of it for years to come.

The Oscar Lathlin Collegiate was designed functionally to address the diverse age groups between the grade 7 and grade 12 ages. We see three distinct "houses" of classrooms and they are self contained and maintain a separation during regular educating hours of the day. These houses or "pods" are accessed from a central main street where the entire school populations do mix briefly at daily intervals. The central main street acts like a spine to the floor plan, where all classrooms and public spaces branch off of. So we see the shared spaces such as home economics, industrial arts, physical education and administration cleanly separated from the classroom pods on the opposite side of the spine. The school has also been designed to include future considerations for a vocational module plug in through a corridor designed into the plan that would exit past the Industrial Arts room creating a corridor continuation through the CAD lab. Functionally, additional classrooms or vocational labs can also be designed as modules continuing along the curved spine.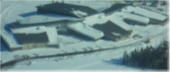 The design motivation to support the functional plan came from a concept of a bear claw with the pad of the paw being the central activity of shared spaces off the spine. The classroom pods become the individual toes of the claw.

As further vocational labs get connected to the plan, the remaining portions of the bear claw emerge. Individual design elements include the priority to blur the lines between outside and inside. This creates a tighter connection to nature's elements. We have accomplished this by the use of interior elements not typically found inside buildings such as the central tree supporting the branches of the central atrium. We have included expansive windows around student passive zones where interior spaces blend into outdoor amphitheatres. The height of the main spine reinforces the humility of the individual in God's (Kisamunito) great work. Wooden elements continue to finish interior surfaces adding the warmth of natural products and a connection to nature. The use of the low slope roof harmonizes with gentle plains of the prairies and the concept was to have the topography of the school blend seamlessly into the surrounding landscape.

Information and graphics compiled by Peggy Lathlin